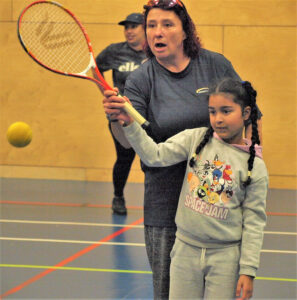 At the beginning of 2020, the Dan Maskell Tennis Trust went into partnership with Disability Sports Coach and the LTA as a special project to support two of its Community Clubs with the delivery of tennis and also to help to train coaches to deliver tennis.
Due to the pandemic the Clubs were not able to operate in their normal way and DSC asked if they could realign part of their grant towards tennis equipment for use by their members at home.
Earlier in the year, DMTT was delighted to be able to provide 30 individual members of Disability Sports Coach Clubs with tennis equipment packs. This pack allowed members to not only play tennis while at the Club, but also practice at home and in their local park. This was especially beneficial during this time of lockdowns when not all activities can go ahead in a group environment.
Feedback we received from one mum was: "Tobi has loved playing tennis since he was very young, but this is the first proper equipment he has ever owned. He cherishes it and considers it to be a true gift. He uses the equipment at Club Southwark but also plays at a nearby open space as well as in the garden with his friends. He has even put up his own net in the garden!
Using this equipment regularly has really helped Tobi's general fitness. But, just as importantly, there has been a significant improvement in his social skills. When he first went to Club Southwark, he hardly said a word to anyone but he is now much more communicative."
The Trust also provided funding towards coaching at the Clubs and next year more of this funding will be used for coach education – training more coaches and volunteers. Since January 2021, 139 participants have taken part in tennis activities at a DSC Club. We are so glad we could help to make such a big impact!