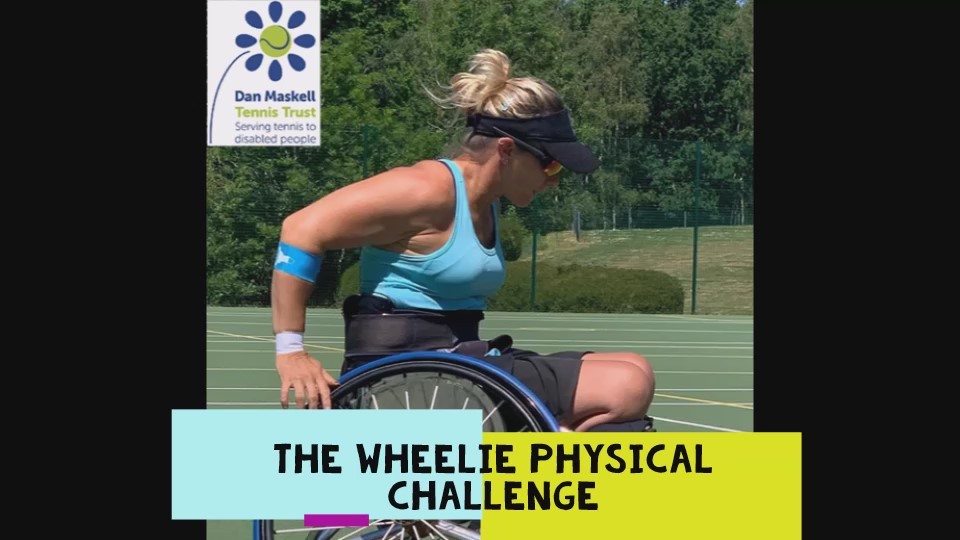 The Dan Maskell Tennis Trust is excited to announce our latest fundraising initiative, the 'Wheelie Physical Challenge' here on Justgiving.
2020 has been tough for everyone, and with the second lockdown in place we want to not only raise much needed funds to continue our work, but also provide a physical challenge to all our tennis players and friends in the community who currently can't take part in their great sport.
While this challenge has a focus on our wheelchair players, with a 5km or 2km push, we have modified versions for our VI, Deaf and LD Players. Wheelchair tennis players, we also encourage you to challenge your family or friends to see if they can make it 2km on a handbike or wheelchair (please ensure you adhere to any Government guidelines that may be in place at the time of the event). This will be a great twist and not only will be really fun to include family and friends but will also show them how tough pushing can be – be ready to provide them with lots of support the day after!
Some of our top Paralympic tennis players will be joining this challenge – opting for the harder 5km and we can't wait to see which player tops our leaderboard at the end of the challenge.
Our professional players will lead the way by completing the challenge in the first week of December, with everyone else asked to complete it between December 4 to 13. You can link your Strava to our event, or manually upload your successful completion. You can complete your challenge wherever it is that you enjoy to go for a long push, or you could try doing circuits of your tennis club if possible! If you own rollers or an arm crank you can use these as well. Currently the challenge is set to take place just after lockdown, so that you may be able to do it in small groups if you like.
To sign up you can use your existing justgiving profile or create one in less than 2 mins. You then need to choose our charity and event to be part of the fun. Just follow the link below. We ask all participants to raise a minimum of £50 in donations and we will provide prizes for those who top our fundraising leaderboard.
If you don't wish to take part yourself, we urge you to support us by sponsoring someone else who has signed up. You can help determine who is the winner of our leaderboard by selecting your favourite player!
Deaf and LD Players – we challenge you to do a 5km run with a twist – balancing a ball on your racket the whole way! GB Player and Deaf tennis legend Lewis Fletcher will be leading this campaign, let's see what time he sets, and if he can make it the whole way without dropping the ball. VI Players we challenge you to bounce your ball on your racket for 20 mins – and we hope to get 20 of you to do this (20-20)
Below is the link to our event, or contact Liz Terry if you have any questions
justgiving.com/campaign/DMTTPhysicalChallenge
We all hope you can get behind our latest initiative, and thank you in advance for your continued support.